For decades the Yankees in the playoffs was a natural thing. The Red Sox fans were used to it. We expected it. We were ready for it. But then things suddenly changed around the turn of the century…

Where this guy shared the MVP:

Then there was 2003, and this guy ended up MVP:

Those were the last two times the Yanks have been to the World Series.
Then as the clock struck midnight, on the morning of Oct 18th, 2004 something changed:
*GROWN MEN SHED TEARS WARNING – DO NOT WATCH IN FRONT OF COWORKERS, WOMEN OR YOUR CHILDREN (unless they will cry with you, of course)*

and the Red Sox established themselves in the WS with another win in 2007:

Papelbon had some ups, eh?
Then the Red Sox were back in the ALCS in 2008, Yanks didn't even make the dance.
Yes, the Red Sox were a quick 3 and out in 2009, there are all sorts of issues with an aging team but that's another rant for another day.
So, that being said, this is Red Sox territory now. This is how the post season feels now. I can only hope to see some other familiar face holding a World Series MVP trophy next week: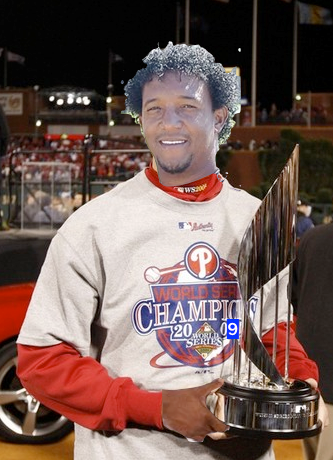 Go Phillies!
Support this site by Sharing